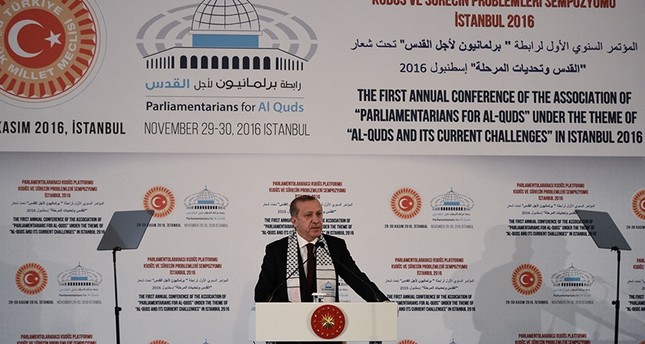 Lasting peace in the Middle East cannot be reached without a free Palestine based on 1967 borders, with East Jerusalem as its capital, President Recep Tayyip Erdoğan said on Tuesday.
Erdoğan spoke at a symposium on Jerusalem and highlighted that the international community should increase support for an independent Palestinian state.
He also criticized Muslims for failing to pay enough attention to Jerusalem, saying that they do not visit the holy city or Masjid al-Aqsa.
Erdoğan criticized the United Nations for its inefficiency, saying that he does not expect the international body to secure justice.
"Failing to materialize its decisions on a vital issue like Palestine, UN shouldn't be expected to find solutions on current problems" the president said, added that the Security Council is largely dysfunctional and has not resolved any international crises including Syria.